Sporting Achievements
At Catcott we recognise the role that PE has to play in promoting a long term healthy lifestyle which is both enjoyable and fulfilling. We aim to give children the tools and understanding required to make a positive impact in their own physical health and well-being. We want all children to experience a wide variety of sports and physical skills which will enhance life-long fitness and life choices. PE can challenge and promote self-esteem through the development of physical confidence and problem solving. It can teach children to cope with both success and failure in competitive, individual and team based physical activities.Through our physical education culture we will enhance academic achievement, as well as the health and well-being of our pupils.
Wednesday 8th February
Sports for Schools – Jack Rutter
This Wednesday we were lucky enough to be visited by paralympic footballer, Jack Rutter. During the afternoon, every child took part in a sponsored circuit of exercises to get their bodies moving and hearts racing. Despite this being challenging, the children were resilient, had great fun and clapped and cheered for each other throughout. We then had an assembly led by Jack Rutter, in which he gave an inspiring speech about his journey and how he became a professional footballer. The children were excellently behaved and engaged throughout and were very inspired – they remembered facts about his story, asked thoughtful questions and some even got to score a goal with Jack! Jack gave three key takeaways for the children to remember to achieve their goals: be active, compete against yourself and have a positive attitude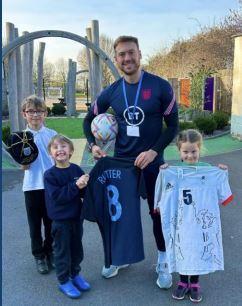 Tuesday 7th February
Rugby Enrichment
In alignment with Healthy School's Week and the Six Nations Championship currently taking place, every class had an extra PE lesson this week focused entirely on tag rugby! They learnt some key skills in passing, catching and tagging before competing in team games. The older children focused on teamwork and tactics in the sport, having time to plan their approach with their team before playing. There was some very skilful play seen throughout the day and the children again shone with their excellent behaviour and enthusiasm.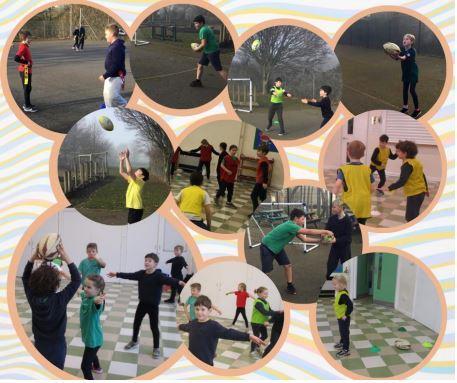 January
Hockey Enrichment Day
This week the children from KS2 have taken part in a hockey enrichment day to align with the hockey world cup, which is currently taking place. Throughout the day, every KS2 class had their own lesson to practise their hockey skills. They worked on dribbling, passing, stopping the ball and played some exciting games. At the end of the day, the whole of KS2 went outside together for an interschool tournament. Despite the cold, the children had great fun and showed good sportsmanship while supporting each other. The overall winning house from the KS2 hockey tournament was… Robins! As you can imagine, the children in Robins were very pleased with their win!